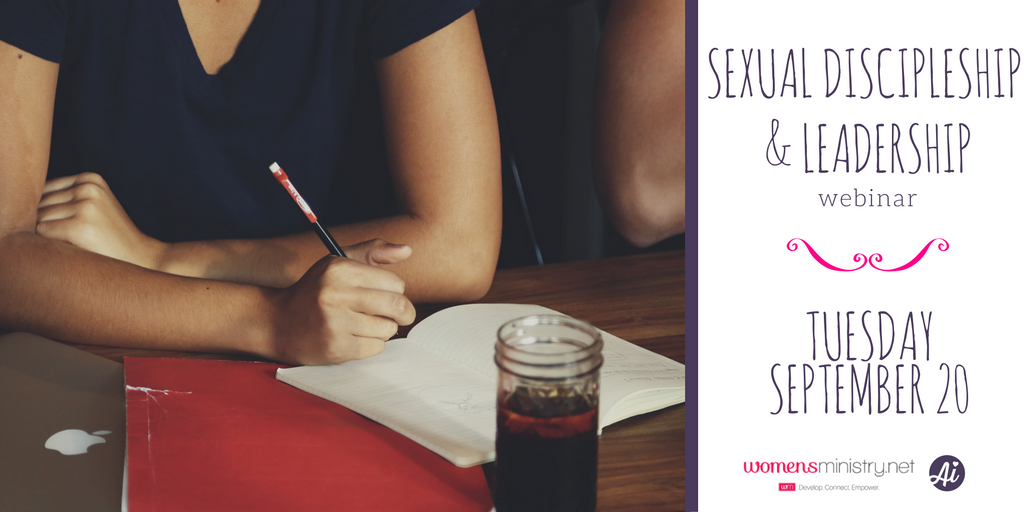 Join womensministry.net as we partner with Authentic Intimacy for a webinar created just for ministry leaders on the how-to of sexual discIpleship.
What is sexual discipleship, you ask? Well, have you ever received the following questions from women in your church or community:
How do I get past the shame of my sexual sin?"
How do I enjoy sex in my marriage? It's always been a chore to me.
I don't understand why God wouldn't want two men or two women to be married. After all, isn't He all about love?
Questions like these are within the hearts of women in our churches yet they often don't feel safe to ask them. Or, when they do ask, the person they go to is not equipped to provide Biblical answers to their questions.
That's why we have partnered with Authentic Intimacy and Dr. Juli Slattery to equip women in ministry to sexually disciple women, to help them understand what the Bible teaches about sex and how that applies practically to their daily lives.
FREE FOR MEMBERS OF WOMENSMINISTRY.NET
The webinar will be hosted online on Tuesday, September 20 at 12:00 PM CST and it is available for $5.00 to anyone who registers here. But we're excited to provide it for FREE to members of womensministry.net. Not a member? Click here to join today.
–> Already a member of womensministry.net? Access the partner code here so you can register for the webinar for free. Plus, you'll find a downloadable handout for note-taking during the webinar.
If you can't attend the webinar when it's live, that's ok. Register anyways and you'll have unlimited access to the webinar so that you can watch it when it's best for you. But, we should tell you there will be giveaways during the live webinar so you'll want to be there!
WHY SHOULD YOU ATTEND THE WEBINAR?
In every church, in every row are women who carry secrets and questions about sexuality, sexual abuse, abortions, pornography and sexual identity.  The virtual silence on these topics reinforces the thinking that God doesn't deal with our sexuality. So we look for answers to these sensitive topics on Google, Cosmo, or other sources of "worldly" wisdom.
As leaders in our homes, in our communities and in our churches, it is important to focus on two words that are rarely put together: sexual discipleship.
The average Christian woman has been sexually discipled by the world. With Beth Moore in one hand and Bible Study Fellowship in the other, she knows the Scriptures related to every area of life, but has very little truth on how to answer the questions they have around sex. Questions like…
If my husband loves me, why is he looking at porn?
Where was God when I was sexually abused as a child?
Why would God give me a sex drive and make me single?
Why does God care if I sleep with my boyfriend? We love each other.
Am I sinning every time I masturbate?
How can I possibly trust again after my husband was unfaithful?
As a mother, friend or leader, are you equipped to answer these questions? In this webinar, Dr. Juli Slattery will show you  the steps you can take to understand, apply and teach God's Truths in the area of sexual discipleship.
–> Register for the webinar for $5.00 here, or join womensministry.net today  and access the webinar for free.