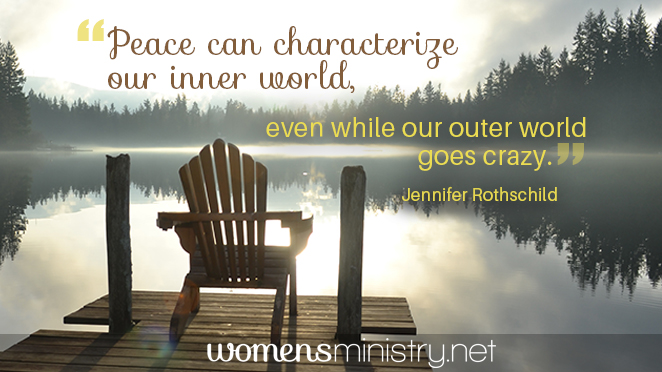 The Old Testament word for peace is based on the Hebrew greeting shalom. This peaceful-sounding word is really a prayer that asks God to secure a person's well-being. You can still and quiet your soul by speaking shalom to yourself. It's like inviting wellness to your soul — to your thought closet.
Experiencing real shalom seems nearly impossible in our chaotic lives, though. Peace, calm, and tranquility seem just beyond our grasp. And let's face it, we all have times of stress, feel overwhelmed and have telephone conversations that are… well, less than peaceful.
But peace is a quality that can characterize our inner world, even while our outer world goes crazy. Here are 2 ways I've learned to speak shalom to my soul in the midst of chaos.
Loosen the Grip
Do you realize how difficult it is to be a blind control freak?
By nature, I am a planner. But add blindness to that equation. I can assure you that what was once pretty difficult is now practically impossible.
A long time ago, I had to reconcile myself to the fact that I wasn't in control and really could never be in control as I wished to be. The real reconciliation wasn't with the disappointment that blindness had taken away my control. It was with the realization that ultimate control was never mine to begin with.
Did you catch that? Blindness didn't take away my control. It simply exposed that I never had ultimate control in the first place! And, my friend, neither do you. As you loosen the grip on the illusion of control, your soul will begin to find peace.
Recognize What You Do Control
Control over the events of our lives is a pleasant daydream at best and a cruel fantasy at worst. Even so, God has left a few very vital aspects of life under our control.
We have control over our own attitudes.
We have control over our responses to circumstances.
We have control over our choice to seek God.
We have control over our determination to be still before Him.
We have control over our choice to acknowledge that He is God — and we are not!
Even though we have the power to choose in those situations, making the right choice can still be terribly difficult. Yet we know that with God, all things are possible.
So, how do we experience peace in the midst of chaos? We loosen our tight grip and begin to hold the precious things in our lives with an open hand. We trust His plan, His ways, and His goodness more than we trust our own.
That kind of acknowledgment and trust has ushered ultimate peace into my thought closet.
And I believe it will do that for you, too.
GIVEAWAY: Leave a comment sharing how this post has inspired or encouraged you and be entered to win a member book from Jennifer's Me, Myself, and Lies Bible study. Winner will be randomly selected from comments left by April 5, 2017.