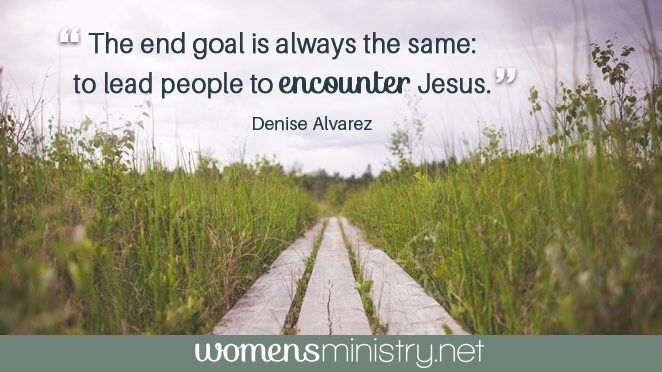 The womensministry.net 40 Under 40 campaign – where we honored 40 women in ministry under the age of 40 – has brought to light a number of great women. And it's exciting! Yet, when you meet a lot of great women at one time, one of the temptations is to fall into the trap of comparison.
"I wish I was more like her."
"Wow, she is doing so much. I'm not making near the impact that she is!"
"She's doing all that and still raising a family, and I can barely stay above water most days."
There's a reason it's called a comparison trap – it is easy to get stuck there. Instead, we should proactively glean wisdom from the great leaders God puts in our path. Can I help you get started by sharing some of the insights I gleaned from these great leaders?
Courtesy of our 40 Under 40 honorees, here are four characteristics of an outstanding ministry leader:
1. Mission Minded
While each of our honorees lead with a vision or mission for the organization where they serve, there is an even larger mission at the forefront of each of their lives. The end goal is always the same: to lead people to encounter Jesus and then disciple them to become fully-devoted believers.
For leaders, this should hold true whether you are leading in a ministry or marketplace setting. If our primary aim is to lead people to encounter Jesus, then his love and grace will be reflected in how we lead and how we live.
2. Outward Focused
Great leaders find joy in discovering and encouraging the gifts and talents of those around them. They purpose to help those they lead to identify and develop their unique gifting.
Jennie Puleo summed up this characteristic perfectly: "By encouraging each other in our unique gifts, we are able to accomplish so much more."
3. Team Mentality
As they help others find their gifts and talents, outstanding leaders find a place for those gifts and talents to be used to further the Kingdom. The honorees were consistently sharing that their goal was to bring others to join in the work God has laid before them.
They clearly understand that no woman is an island. Instead, we should be building a team and training up leaders to come alongside and behind us. Remember, God did not call anyone to be both His hands and feet.
4. Humble Spirit
As Courtney Veasey said, "I want them to hear His voice more than my own. "
Humility as a leader means acknowledging often that you are a vessel and placed here for God's good works. It means seeing the value others bring to the table and that we are God's messenger of grace.
What an encouragement and inspiration it has been to learn from this year's honorees. They truly love the Lord and are faithfully doing the work that He has called them to do. And they've taught us so much about how to be outstanding leaders in ministry.
→ Have you met the womensministry.net 40 Under 40 Class of 2016 Honorees yet? Visit womensministry.net/40under40 to view personal profiles of each woman.

GIVEAWAY: Be entered to win a copy of I'll Be Praying for You gift book when you leave a comment sharing how this post has encouraged or inspired you. Winner will be randomly selected from comments left by August 31.