It was Friday, and I couldn't be more excited. I lived for lunch with Mrs. Linda. We would divulge in uninterrupted conversations about all stages of life.  
She offered transparency, authenticity and trustworthiness. She was the first woman to come alongside me and say, " I see your hurt, but I want to walk through this with you." She was aware of the need and didn't hesitate, despite our 50 year age difference.  
I knew how to speak "church" fluently, but I craved a meaningful relationship.  
So, how do we identify opportunity and begin to cultivate friendships with depth among our sisters in Christ?
Ask
Sounds simple, right?  Grab a cup of coffee, go for a walk or sit at the playground. Most women are just waiting for the invitation. We have the desire to be pursued, but lack the confidence to step out and do the pursuing.
Offer Uninterrupted Time
Put aside any distractions. Make each other feel valued and that the friendship is desired and of great importance.
Be Consistent
Consistency shows commitment. Commitment builds trust. Without trust, a true relationship cannot exist.  
Be Transparent
Women in and out of the church are desperate for transparency amidst life's struggles. We want to know that we aren't alone and that there is someone who will walk beside us with love and grace.
For the first time in decades, five generations are serving together in working spaces and in ministry – that is a lot of women! What an incredible wealth of knowledge and life experience right at our fingertips.
It's imperative that we embrace one another as women of faith and seek out opportunities to step out, link arms and encourage spiritual growth as we do life together.
Shepherd the flock of God that is among you, exercising oversight, not under compulsion, but willingly, as God would have you; not for shameful gain, but eagerly;  not domineering over those in your charge, but being examples to the flock. And when the chief Shepherd appears, you will receive the unfading crown of glory. Likewise, you who are younger, be subject to the elders.  Clothe yourself, all of you, with humility toward one another, for God opposes the proud but gives grace to the humble.

1 Peter 5: 2-5 (ESV)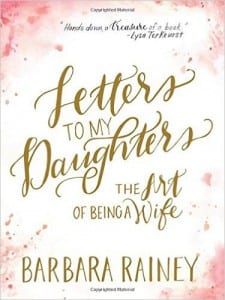 BONUS: Leave a comment sharing how friendships with women have encouraged you personally and be entered to win a copy of Letters to My Daughters by Barbara Rainey. Winner will be randomly selected from comments left by May 4, 2016.