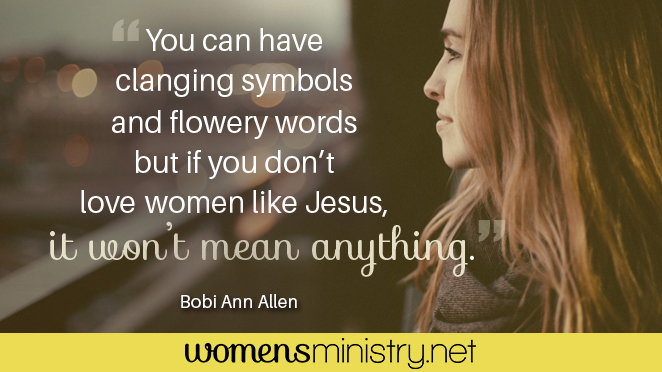 As a ministry leader, I want to effectively minister to and reach the women God puts in my path.  Recently, I considered who those women were and realized there was a section of women coming to church by themselves who were not really plugged in.
My heart ached for them and I began to pray about how I might make a difference in connecting these women in ministry. Our journey together has been sweet and awkward at times as I've discovered some best practices when it comes to involving single women in ministry. 
Here's what I've learned along the way:
Expand the definition of single.  When it comes to women in the church, "single" no longer exclusively means "not married." Try enlarging the definition to women who come to church without a partner, for whatever reason. By doing so, you extend your reach to a greater section of women experiencing a similar reality without having the same marital status.
Don't assume you know their needs.  Ask. Too often as leaders, we jump to assumptions without ever asking. Overwhelmingly, most "singles" are looking for community but the required parameters of such a community may surprise you. There are various means to ascertaining information such as surveys or consultants. Yet, the most effective method I've found is building a personal relationship with the women you want to reach. Take them to lunch, hear their stories, share your heart and see where God leads.
Be authentic and open.  Single women don't want to be a project. (No one does for that matter!) Let down your guard, invite women into your home and your life. Let them see your imperfections. By inviting women in, you create a safe place for them to not be okay. Openly communicate your personal struggles and stories while being sensitive to their needs and unique stories. Showing genuine concern with transparency is engaging.
Embrace messy.  Building community and engaging a particular section of women can be messy and awkward. Own the awkwardness. If you find you've erred in an assumption or somehow made someone feel less than needed and valued, simply acknowledge the miscommunication as quickly and genuinely as possible; offer an apology, a smile, maybe even a hug.

It may seem like a train wreck resulting in derailment toward the goal, but acknowledging miscommunications, unrealized expectations and the difficulty of stepping outside your comfort zone actually

is

quite engaging.
Most importantly, seek God fervently. You can have clanging symbols and flowery words but if you don't love women like Jesus, it won't mean anything (1 Corinthians 13).
->In this video training just for members of womensministry.net, Bobi Ann Allen shares additional insight on engaging women who are not connected in the church. Not a member? Learn more here.
BONUS: Leave a comment sharing what you've learned about ministering well to single women and be entered to win a copy of It's Good to Be Queen by Liz Curtis Higgs. Winner will be randomly selected from comments left by March 23, 2016.