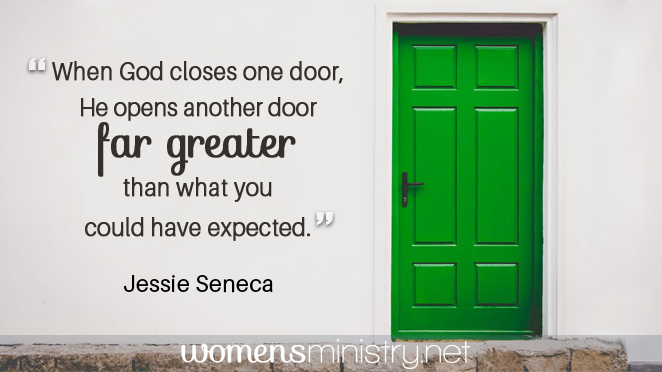 Have you felt called into a particular ministry?
Has that calling taken longer than you hoped?
What do you do in the wait?
For me, it was a 12 year journey before God opened the door to what I felt He had called me into over a decade before. I found when I was hoping for the next season, I would miss God in the here and now. I needed to adjust my thinking, look straight ahead at Jesus and let Him write the story.
I am not going to sugarcoat it. Waiting is hard. But, as I look back on those divine moments, they became the catalyst of His future design, and I am thankful for all He taught me in the waiting room.
If you are in a period of waiting, consider these potential blessings.
Waiting Clarifies Our Purpose
While you wait for God to move, don't miss His involvement in your day-to-day activity. He will teach you more about yourself and the purpose He has for you as you seek Him with all your heart. As you work in the ministry set before you, each experience will build on the other. Ecclesiastes 9:10
Waiting Develops Patience
Sometimes we think if we can't go right to the big things we so desire, we shouldn't do anything. No, do what is before you. Be faithful in the small things, and God will build upon them. Matthew 25:1-13
Waiting Builds Anticipation
We tend to appreciate and cherish things the longer we have to wait for them. God gets to display His power in your life to a watching world as His plan unfolds. It will be far greater and beyond all you could ever ask or think. Ephesians 3:20
Waiting Transforms Our Character
In the wait, God remolds us into the fullness of our destiny. Looking back, if God would have opened the door when I thought He should have, it would have been a train wreck. Maybe, just maybe, you are not ready and God knows it. He is still molding you into His likeness so when He does open that door, you will be more prepared. Colossians 3:12-15
Waiting Increases Intimacy with God
In your wait, you will come to know God in a deeper way. Desire to be the best learner you can be; seek Him with all your heart and trust Him to complete what He began. Matthew 6:33-34
I believe when God closes one door, He opens another door far greater than what you could have expected. They may not have been your initial plans, but they were always God's plans.
You just couldn't see them until He revealed them.
Delight yourself in the Lord; And He will give you the desires of your heart. Commit your way to the Lord, Trust also in Him, and He will do it. Psalm 37:4-5