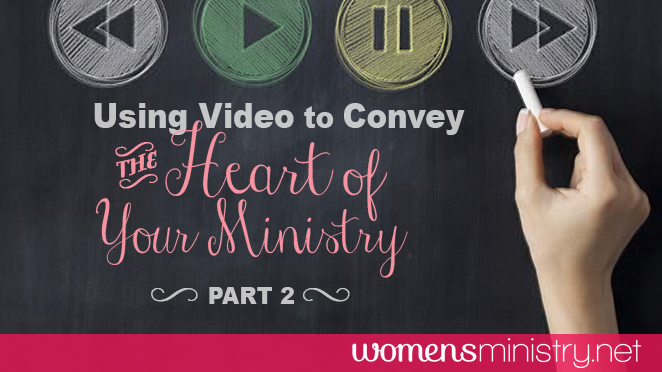 As a visual media specialist, I have seen the power that video has to effectively communicate a message and draw people to act. On the other hand, I have seen videos miss their mark because of distracting technical errors.
Thankfully, it is possible to create both a quality and effective video for your ministry. One of the first steps is to avoid some of the most common video production mistakes:
Mistake #1: Poor Audio
This can distract from the message of an otherwise well-crafted video more than any other factor. Never use the built-in microphone of your video recording device as it will pick up every sound, including background noise. The three most popular options to capture better quality audio are:
Lavalier

microphone which clips onto the presenter's shirt or jacket (remember to hide the mic cable under a collar or clothing). In particular, Sennheiser and Sony offer models popular for church and ministry use.

External

microphones are mounted directly to the camera or on a boom pole. Rode is one of the go-to brands for entry level video microphones. Shotgun microphones are also popular for video recording and a good choice when shooting outdoors.

Digital audio recorders

, such as the Zoom H4n or Tascam DR-series, have both built-in microphones and, for best results, inputs which connect with a lavalier or external microphone.
Mistake #2: Poor Lighting
Room lighting can be lackluster and too dim for proper exposure settings on your camera. Light your subject evenly with a flattering soft light source to avoid harsh shadows on your subject:
Use video lighting fixtures and diffuse the light with a softbox, photo umbrella or bounce it off a light-colored ceiling. Also watch for eyeglass reflections and distracting background shadows.
Use natural, indirect light from a large window, or outdoors in a shaded area. Remember to never shoot toward a window or light source as these areas will overexpose and distract from your subject.
Mistake #3: Copyright Infringement
Background music adds a nice touch, but only use royalty-free resources which you have the legal right to use. There are many sites which sell royalty-free music downloads online for this purpose. Never use your favorite song off of a CD or digital playlist. Your church CCLI license does not cover use of these copyrighted materials for video or web use. The same applies to images and all other copyrighted materials.
Mistake #4: Video Length
Keep the message concise and to the point. Most informational, promotional and event recap videos are best limited to one minute in length to retain your viewers' attention and strengthen the response to your message. Stay targeted on one purpose for your video by avoiding sideline messages.
By paying attention to these important elements of video, you'll be able to create a stand-out video to promote your next event, Bible study or just create awareness of the women's ministry at your church.
Share in the Comments: What tricks and tips have you discovered for creating great videos for your ministry?