I love cupcakes, icebreaker games and door prizes. I also crave transformational Bible study, deep spiritual conversations and intimate times of prayer with Christian sisters. Can we do it all?
In recent years, there's been an ongoing discussion on blogs and social media about the nature of church ministry to women. Should it contain what many call "fluff?" Or should it be all spiritual meat without any of the yummy side dishes?
Honestly, I don't understand the kerfuffle. Cupcakes and theology are not mutually exclusive. There is room – and need – for both.
Women need equipping for ministry, encouragement to fulfill God's purposes for our lives, and accountability to grow into Christlikeness. This should be the heart and soul of our women's ministry. It is the church's calling.
But not all women recognize this need. If we want to reach all the women in the church – and the community – we must also minister to the felt need. We must connect with the women who aren't ready to jump into the deep end of the spiritual pool and provide a way for them to get their feet wet.
5 Reasons We Need "Cupcakes" in Women's Ministry:
They provide "safe" opportunities for unchurched women. Women who won't come to a church service, Bible study, or spiritual retreat will often accept their neighbor's invitation to a fun event or special dinner with entertainment.
They help make new women comfortable. Connection events are great opportunities for women who are new to your church or community to connect with other women and begin to find their niche.
They foster relationships. Few of us will pour our hearts out to strangers or ask some woman we don't know to be an accountability partner. But give us an opportunity to bond over a cupcake and, before you know it, we're praying together.
They pave the way for deeper things. The women of our churches represent a wide range of spiritual maturity. Those who are just beginning to grow need encouragement to wade into deeper spiritual water. Connection events can be used as an invitation for your women to get involved in the other opportunities your church offers.
They are fun – and yes, it's okay to have some fun together! That doesn't mean we don't care about spiritual things.
Oh yes, there's room for cupcakes and spiritual depth. We can have the cupcake and eat it too!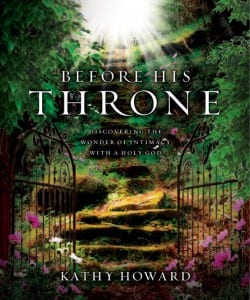 BONUS: Leave a comment sharing how you have seen connection events open doors to spiritual conversations and be entered to win a copy of Kathy's book, Before His Throne. Winner will be randomly selected from comments left by March 9, 2016.