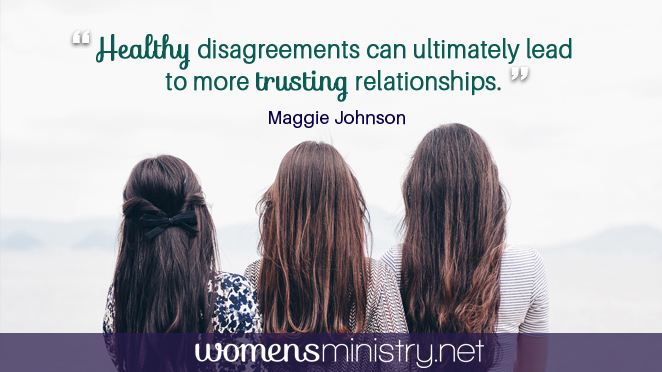 If you're in ministry, then you know conflict is part of the job. In college, one of my professors used to say, "Ministry would be easy if it wasn't for the people."
Our class would always giggle because of the absurdity of that statement, but the truth is that ministry is hard work. From disagreements on the leadership team to church members feeling overlooked, we have to sort out how to have healthy conflict in our spheres of influence.
This starts by acknowledging that conflict is a good thing. The presence of conflict means we're being honest and vulnerable with all of our mess and insecurities and failures and mistakes. However, there are a few things we can do to make sure our conflict is healthy and effective.
Assume positive intent.
Our worst arguments spiral out of control when we assume that the other person is intentionally trying to wound us. In contrast, when we start with the assumption that the other person has our benefit in mind, conflict is easier to navigate. This rings true in every area of my life – in ministry, in marriage and beyond.
Use "I" statements.
When attempting to communicate your own feelings and hurts, starting a sentence with "you" sounds accusatory and will immediately put the other person in a defensive posture. Example: "You hurt me when you didn't invite me to be part of the retreat planning committee." Instead, say: "I felt sad and hurt when I didn't get an invitation to join the retreat planning committee." Do you see the difference? You can communicate the same emotion in a more effective way by simply restructuring the sentence.
Say what you know.
It's important for people to feel loved and affirmed, even when we disagree. Before offering a rebuttal, say things you know to be true about the other person. Offer statements like, "I know you care about this ministry and want the best for our women," or "I can tell you've put a lot of thought into this and I really appreciate that." When you say what you know to be true, it diffuses any unneeded tension and places trust at the center of the conversation.
Remember the goal.
The goal is not to win; it is to love well. When the focus becomes about winning the argument, we have lost. Remembering the goal of the conflict will help to keep a healthy perspective on what needs to be said and what does not.
Conflict isn't supposed to be easy, but healthy disagreements can ultimately lead to more trusting relationships. The women we lead are watching how we live our lives – even when and especially how we handle conflict. We have the opportunity to show people how Jesus cares for them simply by the way we handle difficult conversations like these.
Beloved, if God so loved us, we also ought to love one another. No one has ever seen God; if we love one another, God abides in us and his love is perfected in us. 1 John 4:11-12
→ Discover more about handling conflict God's way in this article for members of womensministry.net. If you aren't a member yet, find out how members are developing their ministry leadership skills here.
GIVEAWAY: Be entered to win a copy of I Will: Nine Traits of the Outwardly Focused Christian by Thom Rainer when you leave a comment sharing how this post has inspired or encouraged you. Winner will be randomly selected from comments left by September 7.