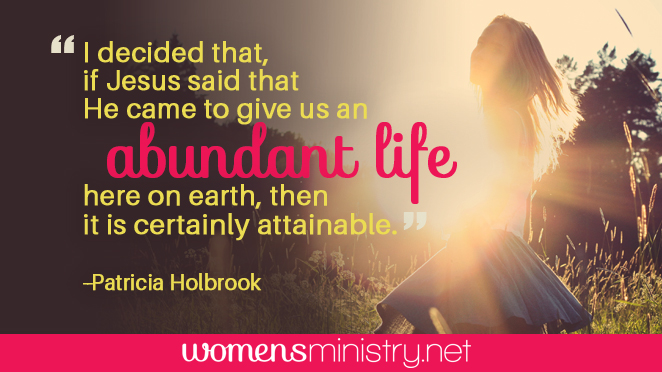 It was 2006 and I was pregnant with our youngest daughter. Among other issues, the shadows of a failing business and the stress that comes along with such financial burden were on top of my ever-growing prayer list that morning. I opened my Bible with the hunger of a soul that needed tendering and guidance. God directed me to the tenth chapter of the gospel of John, and my eyes rested on verse 10:
"I came that you may have life, and have it abundantly."
Jesus' words jumped out of the pages and grabbed my heart. I believe God's Word. I do. And I believe if Jesus said that He came to give me an abundant life, He meant just what He said.
But as I searched my heart that morning, I had to admit that I felt anything but abundant. Life was chaotic, restless and my spiritual life was falling into the same categories. None of which translated into abundance.
That day marked the beginning of a life-changing journey for me. I decided that, if Jesus said that He came to give us an abundant life here on earth, then it is certainly attainable. I wanted it. And became determined to find it.
Bridging the Gap From Head to Heart
As I started the journey, God started pointed out several areas concerning my spiritual life that needed to be evaluated. The most prominent issue being that, as Christians, we often seem to have a lot of head knowledge of God, but allow our feelings to dictate how we respond to life's circumstances. As leaders, this is something to learn for ourselves and then help the women we serve learn it as well. So how do we bridge that gap?
Start by candidly evaluating your life and routine. What do you feed your mind every day? How much time do you spend on Social Media and TV, versus in God's presence? Many times our emotions take control of our destiny simply because our minds are malnourished. We must choose to feed our minds properly if we want to remain strong through life's valleys.
How much do you allow your past to control your present and future? Are there lies that you have believed about yourself, others and even God? Many of us are living a defeated life because of unforgiveness or a skewed view of whom we really are – unconditionally loved children of Almighty God.
How much do you rely on God's Word in times of difficult trials? God's Word is a fierce weapon of war; however, unless you learn to handle it with expertise by studying it diligently, you will not able to navigate life's rough waters with ease – and win your battles against the enemy.
The abundance Jesus spoke of is not a feeling. It is a constant, rich, attainable place that surpasses what our eyes can see and what our senses can experience here on earth. I know it because I found it. Through cancer, great financial stress and the loss of a loved one, God has taught me to bridge the twelve-inch gap between my brain and my heart. And that journey has proven to be the path to the abundant life we are promised.
BONUS: Leave a comment sharing how you've learned to embrace the abundant life and be entered to win a copy of Patricia Holbrook's new book, Twelve Inches. Winner will be randomly selected from comments left by November 18, 2015.