One of the most memorable examples of the power of women's prayers occurred the week I was in Europe speaking for different Christian churches and groups. An invitation had come from a large secular women's organization in Geneva, Switzerland, made up of expatriates from around the world.
The summer before the event, Leslie, a board member, and three Christian members began praying earnestly that God would touch the hearts of the women through my message. But when the  leadership realized I was a Christian, they put strict limitations on what I could say. They chose my topic, The Gift of Encouragement, but insisted I was not to talk about God, prayer or Bible verses.
Leslie and her friends prayed on; I joined them as well.
Experiencing the Fruit of Prayer
While speaking at the event, I shared my message on the value of encouragement and how they could encourage their children, husbands, etc.
Then, all of a sudden, like a tide flowing in to the ocean shore, we sensed God's Spirit move throughout the room, opening and melting the hearts of those well-dressed international women. Many dabbed away tears as God's love flowed among the rows of women. Afterward, women lined up to tell me how touched they were.
Numerous women shared personal problems and asked me to pray for them. And although the board had never allowed a Bible study to be offered as one of the many activities the women could choose from, the next day, by popular demand, a Bible study was launched!
The Power of Praying Over Events
It wasn't that I'd spoken sterling words of change that day but that the power of God had come on the wings of those prayers sent up by Leslie and her praying friends. Their prayers opened the women's hearts to God's love. James 5:16 says, "The earnest, heartfelt, continued prayer of a righteous man (woman) makes tremendous power available, dynamic in its working." (AMP)
Through the years of speaking in different churches, I can literally sense the difference when an event has been bathed in prayer — and one that hasn't. I always encourage the planning team to have people praying in advance. As an old saying explains, "Much prayer, much blessing. Little prayer, little blessing. No prayer, no blessing."
Let me encourage you to cover all of your women's ministry events in prayer. Designate a prayer team to be part of the event committee. Ask the speaker for prayer requests. Make a prayer calendar for the months leading up to the retreat or conference, and write in a focus/request for each day.
As you do these things, your prayers will prepare the hearts of those who attend and the prayer partners will be blessed and encouraged in their own walk with the Lord.
And, as you pray for the women coming to your events, God will do more than you could ask or think.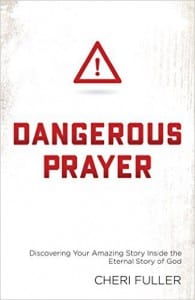 BONUS: Leave a comment sharing how you have experienced the power of prayer and be entered to win a copy of Cheri's new book, Dangerous Prayer. Winner will be selected randomly from all comments submitted by February 10, 2016.