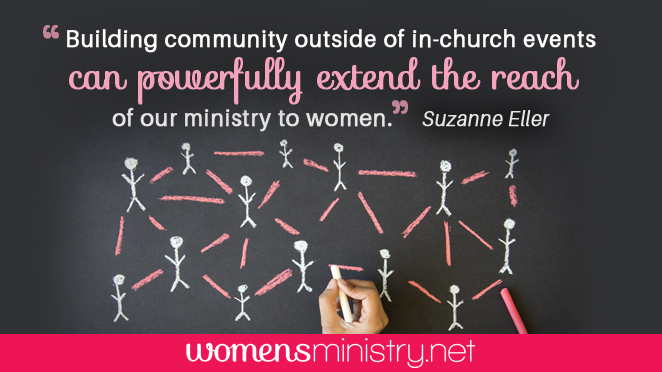 Every Wednesday night, I meet with four to six women in my home. They are fierce and wonderful. They are hungry for Christ. These are women who might not show up in a typical Bible study or women's conference, but they feel comfortable in my home.
They are growing in their faith. We are growing in relationship.
As a speaker with Proverbs 31 Ministries, I love nothing more than partnering with women's ministries events and studies. Whether it's 10,000 women or 100, these church events are a gift to women; but, over the past few years I've recognized that there are women who might not thrive in those ministries, at least not in the beginning.
It might be because they are new to faith. It might be because they are experiencing loss or going through a struggle. It simply might be because going to a church event doesn't feel comfortable yet. Whatever the reason, building community outside of in-church events can powerfully extend the reach of our ministry to women.
For the past two years, Wednesday nights the women in my home and I have laughed, cried, dug deep to find biblical answers, and prayed for each other. From time to time, I invited women from the church in to share their stories and new relationships were formed.
Watching these four to six women discover and deepen their faith in a small setting has been incredible.
Many of the women in my group live in challenging circumstances, but they feel stronger because of their time around the kitchen table with other women.
I'll always love women's conferences and in-church Bible studies, but I believe that training leaders to foster out-of-church ministry allows us to reach deeper into the community and our neighborhoods. It also has a second reward. This past year the women who met in my home began to step into the larger women's ministries events in our church.
The relationships and spiritual growth they gained outside the church allowed them to walk into confidence in ministry within the church.
Learn More: Suzie shared how to teach the women in your church to embrace home Bible studies in this womensministry.net members-only article.
Leave a Comment: How has this week's tip encouraged or challenged you to harness the power of outside/in ministry?