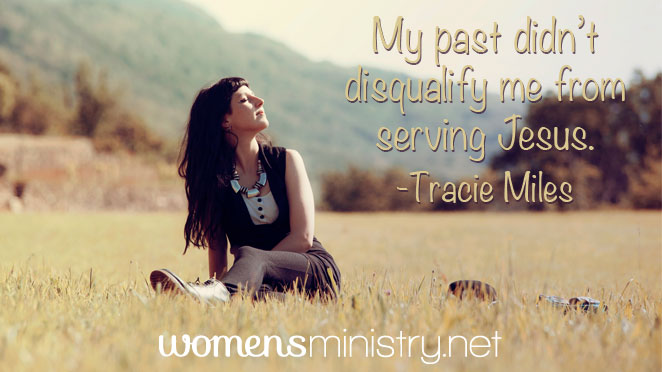 When I first felt God nudging my heart to serve in women's ministry 15 years ago, several nagging questions stuck in my head, preventing me from acting on what I felt God was calling me to do.
These weren't the normal questions you'd assume would be on one's mind, like 'where do you want me to go Lord', or 'when should I go', or 'how do I …'.  Instead, my questions went much deeper; each entangled with insecurities and fears fueled by the enemy who didn't want me to think I was worthy to serve, much less discover and embrace God's plan for my life.
The questions swirling in my mind sounded more like this:
What if they find out, Lord?
What if they knew the real me?
Am I actually worthy to serve You, in light of my past?
Because of past mistakes, I was convinced I wasn't worthy to serve in my church or any ministry, even if I wanted to. And sadly, I now know that so many women in the church feel the same way.
Over time, as my faith grew, I finally became tired of living in the shadows of my past and wearing a mask, and fed up with letting the enemy keep me too scared and afraid to trust God with my future. God gave me the desire and the courage to not only be real but to passionately share my past experiences with other women and let my life serve as proof that Jesus can take what the devil meant for evil and use it for something good.
I discovered my past didn't disqualify me from serving Jesus; it instead qualified me to serve Him in a way that was unique and divinely designed, just for me. All I had to do was accept His grace and forgiveness, and trust Him with the rest.
As women's ministry leaders, we are in a position to not only help women find spiritual healing and grow closer to God, but to encourage them to discover God has always had a precious and divine purpose for their lives.
All women have secrets or regrets and desperately need to hear they are valuable to God. They need to be encouraged that it's not only okay to shed their masks and be real, but that doing so opens the door for them to experience God like never before and to be used by Him as a vessel to help others see the reality of Christ.
Question: How have you helped women embrace God's purpose for their lives?