Your social media feed is probably filled with your favorite authors and speakers, ministry leaders, bloggers, women of influence and good friends. Do you ever wonder, "How does she do it?"
How does a busy woman/wife/mother post poignant, inspiring and timely updates, pictures, videos and links and  – and still have time to eat? Is she on the computer all day long?
Nope. Chances are, she's figured out SMART social media for managing her ministry, promoting special events, and attracting readers to her personal or professional blog.
Schedule – Determine how frequently you need to post to social media and the best times to reach your audience, then create a schedule of posts one week at a time. Facebook Insights and the Twitter activity dashboard will tell you who is engaged with your updates, and when. Don't overpost or you'll alienate your readers (and stress yourself out).
Media – Use a variety of media types to keep your wall interesting. Plain text posts are perfect for sharing and starting conversations, while photos have wide reach when they're shared. Link to your own website and other relevant sites, and insert videos, too (make simple videos yourself, they don't have to be Oscar-worthy!).
Apps – Apps make it possible to schedule social media around the clock, see all your social media in one place, and analyze your effectiveness at a glance. All of these apps work from your smartphone, tablet or desktop.
Hootsuite and Buffer connect to all your social media streams and offer free and paid accounts depending on your needs.
Facebook Pages Manager and Tweetdeck both work seamlessly.
Use Google Drive or Trello to create a library of posts and ideas.
Canva, Picmonkey and Typic (smartphone only) create memes like a pro.
Repost – Don't be afraid to post things several times in several different places. Tweak the language and update the content, then recycle your best posts. Schedule posts about a blog the day it's published, two days later, and two weeks later to keep readers coming back.
Team – If you're blessed with others who can help manage and maximize your social media, assign team members to the stream they use most frequently and naturally. I use Facebook, but my partner Sara uses Twitter. You might have a master Pinner or Instagram user. TIP: Don't feel that you have to do them all!
Smart social media can mean planning in advance so that it doesn't absorb all of your time. If you're SMART, social media can keep your ministry top of mind, create excitement about your events and spread the message God has given you.
-> In this training article for members of womensministry.net, Amy provides her method for creating a project plan that works. Not a member? Learn how you can get equipped as a ministry leader here.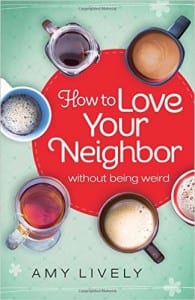 BONUS: Leave a comment sharing how you've used social media for ministry and be entered to win a copy of Amy's book, How to Love Your Neighbor Without Being Weird. Winner will be randomly selected from all comments left by May 18, 2016.