Three years ago I moved to a new state, leaving behind a church family I loved. We settled in to a large church, and weeks passed without really getting to know anyone. When I heard the announcement for a weekend women's retreat, I was ecstatic. I looked forward to making friends and finding my place in our new church.
As a speaker, I've spoken at hundreds of retreats around the nation but this was my first time as an attendee. As the weekend unfolded, I was grateful I had made the decision to attend. I not only met a few new friends, but that weekend changed me as a speaker.
My focus had always been the message, but as an attendee (especially as an attendee who didn't know anyone) I found the small group time to be the most transformative. It's where women were honest with each other. It created a safe place as women encouraged each other with a word or prayer. It also fostered and deepened relationships.
When planning a retreat or event, it might be tempting to avoid small group time. What will they talk about? What if one person hijacks the conversation?  How do you tie in to the theme or the message? But as a speaker, I knew this was something that I could help with. I know the heart of each message. I can offer clear direction for small group time with questions that are thoughtful and open-ended. At my next speaking event, I offered to create a reflection sheet for each message, and it is something I continue to do today.
Reflection sheets are provided beforehand so that the coordinator can share them with team leaders or discuss them in advance, if desired. They are printed and the attendees can take the questions home to reflect on them further at home. Before your next event, ask your speaker to share a reflection sheet with five to six questions for each message. It's a little request, but with big potential to transform your small group time.
It's been two years since I attended that retreat. When I think about the friendships I have made, I can't help but be thankful for the roots formed in that small group of women.
–>Let Suzie help you create transformative reflection sheets in this article just for members of womensministry.net. Not a member? Click here to join!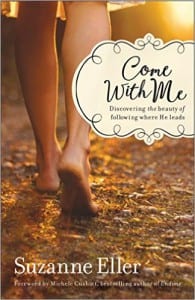 BONUS: Leave a comment sharing how you help event or retreat attendees build meaningful relationships and be entered to win a copy of Suzie's newest book, Come With Me: Discovering the Beauty of Following Where He Leads (May 2016 release). Winner will be randomly selected from comments submitted by March 16, 2016.