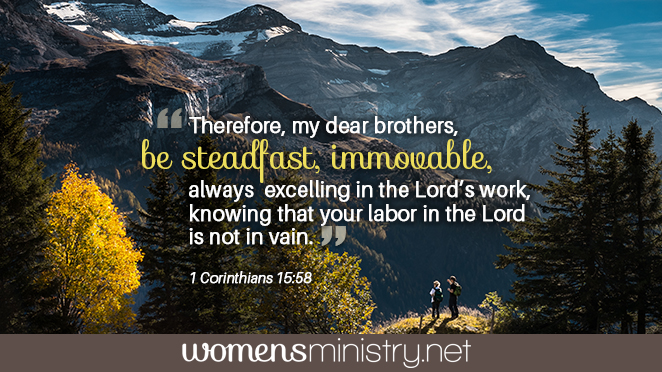 Have you ever had one of those days when you needed God to remind you why you are doing what you're doing? You know this is where you're supposed to be but you feel a little discouraged (overwhelmed, helpless, insert your feeling here).
I've been there too, but I want to encourage you that there is a way to keep pushing through. Over the past few months, we have been elbow-deep (really, past our elbows!) in redesigning the womensministry.net website. And, while it's been exciting, I've had many moments during the process that required taking a step back to refocus on my "Why."
Why am I here? Why are we doing what we're doing?
And that, my friend, is how we push through on the hard days. By reminding ourselves of the why behind our ministry work, we keep our hearts and minds focused on what matters most. It's easy to get caught up in the tasks at hand, but without the why those things really don't matter.
So, in the midst of our checklists, emails, schedules, social media and more, how do we keep our 'why' at the forefront of our minds?
Write It Down
Have you identified the vision of your ministry? Knowing the vision means you understand the overarching purpose of the work you are doing and the goal you hope to accomplish through that work. After determining the vision, print it so you see it often. [Learn more about casting a vision.]
Find a Verse
I loved the idea that many women's ministries and women have a theme verse or word for their year. So, I began to ask the Lord for a verse that would cast a vision for His heart for womensminisry.net and help me to stay centered on Him.
He answered my prayer with 1 Corinthians 15:58: "Therefore, my dear brothers, be steadfast, immovable, always excelling in the Lord's work, knowing that your labor in the Lord is not in vain."
This verse helps guide my heart and prayers for womensministry.net in so many ways. What verse helps bring you back to the heart of your ministry work?
Talk to Your 'Why'
One of the most energizing things I do is to pick up the phone and call our members. While I can't call and visit with every single member, there is great value in having a personal conversation, asking members about their lives and their ministry work.
Consider making a weekly appointment to regularly visit with a woman in your church. Or, if you lead a ministry that serves a particular population, step out of your office and go to the people you are serving. Getting a glimpse into the hearts of those we serve is a sure-fire way to keep the why of ministry at the front of our work.
Notice that each step begins with an action word. Remembering the why takes purposeful action steps on our part. And when we take those steps, we will have what we need to keep pushing through the hard days.
BONUS: Leave a comment sharing how you keep your ministry 'why' on the top of your mind and be entered to win Liz Curtis Higgs' new book, It's Good to Be Queen. Winner will be randomly selected from comments left by November 4, 2015.