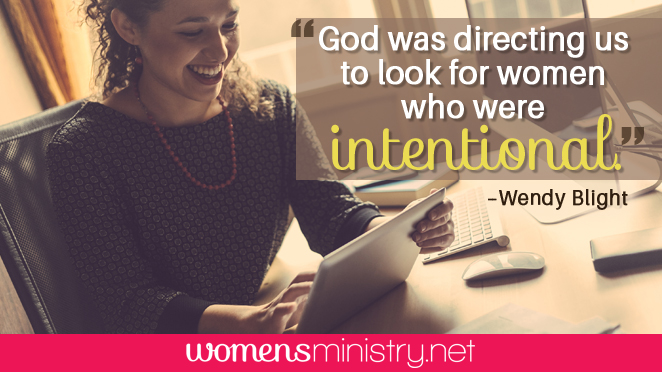 Passing on the baton of leadership. It's a challenge we face every year as women's ministry leaders. Part of our job description involves raising up new leaders. For years, I chose my friends because they were familiar; I knew their hearts, and I could count on them.
But as our numbers grew, this method no longer worked. I ran out of friends (or maybe they ran from me)! And the thought of choosing women I didn't know well scared me.
How did I know they would serve well, love well, and lead well? I went where I knew to go. God.
He gave me one word. Intentional. Wendy, it's not hard. Be intentional.
Intentional means to be "done with intention or on purpose." The Lord was telling me to be intentional in our search. But that word went both ways. Not only were we to be intentional in looking. God was directing us to look for women who were intentional.
Women who valued what we valued as a leadership team.
We had never put our values on paper. So we did.
We value ….
Women who are learners … love God's Word, enjoy digging deeper and sharing what they learn.
Women who are active … attend regularly, complete their assigned tasks with excellence and have a joyful attitude.
Women who are good listeners … value what others have to say, listen to others' needs and respond in kind.
Women who are shepherds … exhibit a servant's heart, desire to pour into others, pray for others.
We put this into practice. It simplified handing off the baton of leadership.
I now ask our current leaders to tuck these word – learners, active, good listeners, and shepherd – in their hearts. Then throughout the year when a woman lives these qualities out in their group or ministry team, we take notice. We share her name and pray over her for a future leadership position.
And funny thing, now my friends are coming back to Bible study.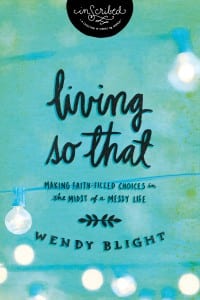 BONUS: Leave a comment sharing what you look for in potential ministry leaders and be entered to win one of Wendy's books, Hidden Joy in a Dark Corner and Living So That.  Two winners will be randomly selected from comments left before Wednesday, October 21.