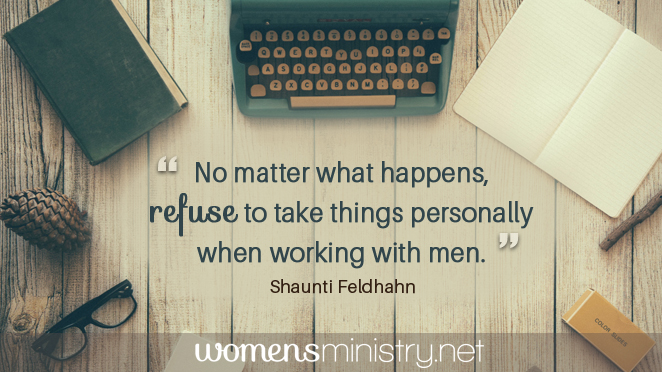 So you, like me, work with a lot of men in your day-to-day ministry, right? I'll bet you also, like me, sometimes like that fact (how many of us notice that working with men can be much more straightforward?!) but sometimes find it frustrating. After all, it is so much more comfortable when I'm in my team meetings with my all-female staff. We understand each other instinctively.
Yet as I was doing the research for For Women Only in the Workplace, I discovered something that can make working with men so much easier and more effective: No matter what happens, refuse to take things personally.
See, even the most personally kind, caring man has a male brain. And it turns out that the male brain instinctively compartmentalizes life into "Personal World" and "Work World" – and in his mind, these two planets function by different laws of gravity.
For example, he thinks it is fine to take things personally in Personal World. If you spend hours cooking a special family dinner, then get a flippant text from the kids saying "Oh by the way, we'll be tied up with rehearsal so go ahead and have dinner without us," a man will be totally understanding if he hears you say "I worked so hard, and they don't even care!"
But take that same man and put him in a workplace – whether it is a loving church or a cutthroat corporation – and suddenly, things are different. He meets the irritated words "But my team and I worked so hard on that project!" with a blank face covering great discomfort.
The way a man sees it, an individual shouldn't even have the same personal feelings in Work World as he or she does in Personal World. Even in a ministry, there's a sense that "It's not personal, it's just business."
Men don't realize that we can't just turn off personal feelings at work like they can. (Raise your hand if you're jealous of that ability.) They don't necessarily realize that our personal feelings have to be invested if we're going to be effective and involved. So they don't always understand why we would take something personally, get upset about a business decision or become a bit defensive when criticized. And when anyone acts in those ways – whether the colleague is a woman or a man – guys generally become uncomfortable.
So if you and your volunteers spend many hours and late nights excitedly working on a special project for the church, only to be told, "The leadership team just decided to cancel it; we have too many things going on this fall," pause before you say anything.
You might be legitimately upset on the inside, but if you want to be viewed as a leader and to have a great relationship with the guys, remain completely calm on the outside. Then, thankfully, you'll have the credibility to address and prevent the types of things you might take personally in the first place!
→ Shaunti joined ministry veteran DeAnna Fields for a conversation on how to effectively work with men in ministry in a podcast for members of womensministry.net. Interested in what membership has to offer? Learn more here.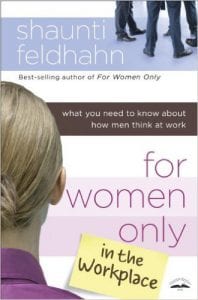 GIVEAWAY: Leave a comment sharing how this tip has inspired or encouraged you and be entered to win a copy of Shaunti's book For Women Only in the Workplace. Winner will be randomly selected from comments left by August 10, 2016.