Knowing God by name. Calling upon God by name. Praying His Word back to Him are powerful and effective ways to usher God's life-transforming work into our lives because our God is a Promise-Keeper.
As you know, prayer plays a vital role in women's ministry. Yet, prayer doesn't come naturally to most women. It often intimidates them and makes them feel uncomfortable.
That's why it's imperative we, as women's ministry leaders, offer opportunities for prayer. And we must not only invite women to pray but also equip them with what to pray. And what we pray is God's Word. Praying His Word – His promises – ensures our prayers are powerful and effective (James 5:16).
Last year, I shared my testimony at a women's event. I shared how, while a student at Baylor University, I fell victim to an armed, masked man hiding in my apartment. His actions that day locked me in a prison of fear for years. I hated God because I felt abandoned, forgotten, unworthy of His love and care.
As time passed, my heart slowly opened to God's Word. He gave me a promise: "Be strong and courageous. Do not be afraid or terrified because of them, for the LORD your God goes with you; he will never leave you nor forsake you" (Deut. 31:6, NIV). It was a long and arduous journey, but over a decade later, healing came. Freedom came. My test became a powerful testimony.
As I closed my testimony that day, a woman walked up to the stage to share her story. Little did I know it was my story too.
She had been a student at Baylor at the time of my attack. She was part of a ministry whose leader invited them to pray for the young woman who had been attacked (me). They prayed a passage from Psalm 62 over me every week … for two years! They prayed the promises of the Promise-Keeper.
Grasp the miracle here. The very time I felt abandoned by God, He had raised up believers to pray. And not just pray, but pray God's Word. His promises. She showed me her Bible. Yes, she still had it! Next to the passage was 1986 and my name.
As I read the passage, each promise had come alive in my life.
I pray my story encourages you to not only invite women to pray but also equip them with the Word of God. To pray God's promises back to the Promise-Keeper. God always honors His Word. It will never return void (Isaiah 55:11)!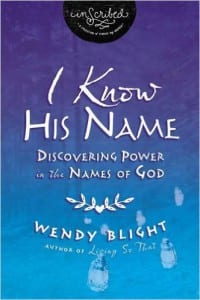 BONUS: Leave a comment sharing how this tip encouraged you as a ministry leader and be entered to win a copy of Wendy's new book, I Know His Name: Discovering Power in the Names of God. Winner will be selected randomly from all comments submitted by February 17, 2016.