What do you think of when you hear the word, courage?
For most people, especially leaders, thoughts of being bold and brave come to mind. Courage means taking risks, doing something that scares you or even moving forward with something when you don't feel equipped.
But what if it takes courage to rest?
Leaders in particular tend to be type-A doers. We love lists, projects and meetings. We are happiest when we feel as though we are productive or getting something accomplished.
The truth is, we sometimes equate rest with being lazy. Rest feels unproductive. It seems like we are wasting time.
Often, we don't even know what it means to rest. Do I nap? Do I watch television? Do I take up oil painting?
Or, we are convinced that there is just too much to do and we simply don't have time to rest. We tell ourselves a few innocent lies like, "I'll rest after this project is over." Trouble is, by the time one project is done, another one has cropped up and rest falls, once again, to the back burner.
I was fortunate to be able to stay home with my kids when they were little but the 24/7 toddler routine often wore me out. I felt guilty for feeling that way and didn't take much time for myself until my mom gave me some really great advice. "You need an opportunity to miss your kids," she said.  
She was so right! Short breaks made me a better mom because I was excited to see my kiddos after I took some time to do something else.
I would say the same thing to leaders: You need an opportunity to miss your work.
That means taking intentional time to allow yourself to focus on something beside your to-do lists and projects.
Rest can be anything you want it to be as long as it affords you the opportunity to think about something fresh and new. Reading a book about your work doesn't count as rest. It's about letting your mind take a mini-vacation.
For most of us, this type of rest will require some courage. We have to fight through the lies of lazy, the burden of production and the fear of not knowing what to do with ourselves.
Yet, as we do, we will be better, stronger leaders as we have the opportunity to find inspiration and refreshment. So let's be courageous, friends.
–> Resting is an essential part of personal leadership. Learn more about personal leadership in this Leadership Essentials Download for members of womensministry.net. Not a member? Learn if membership is a fit for you here.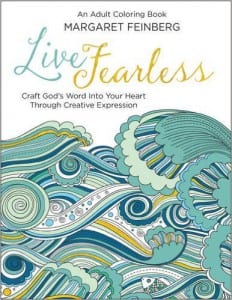 BONUS: Leave a comment sharing how you find rest as a leader and be entered to win a copy of Live Fearless, an adult coloring book by Margaret Feinberg. Winner will be randomly selected from comments posted by June 8, 2016.