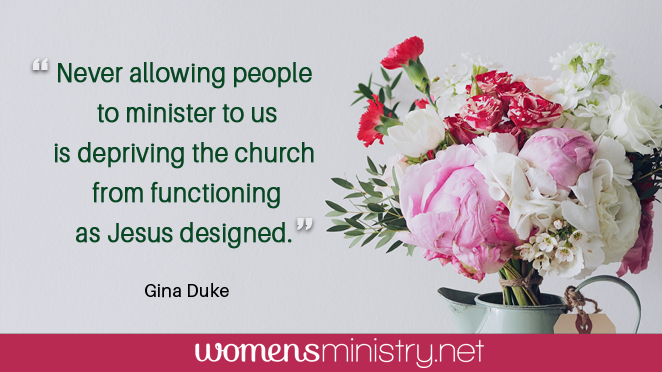 I've been in a long season of feeling defeated and maybe you have too. About a year ago, I stepped down from the position of Director of Women's Ministry, as I had returned to a full-time career. 2015 was the year that I was to wrap everything up with the grand finale of a women's conference in the fall.
Sometimes, things do not go as planned. Instead, my mother was diagnosed with a brain tumor and is now in hospice care. So, with the overload of a new job and dealing with my mother's failing health, my last hoorah was more like a loud thud.
I now find myself in the precarious place of needing ministry and all of this has got me thinking about foot washings.
When Jesus taught the disciples to wash one another's feet (John 13:14) that meant that, at some point, everyone would have the experience of being the recipient of the other's grace or foot washing. When Peter wanted to refuse Jesus' gesture of grace, Jesus told him, "Unless I wash you, you have no part with me" (John 13:8).
Did you know that when we don't allow others to minister to us, we cannot personally experience the grace of Jesus, nor do we grant the opportunity for others in the body of Christ to serve as Jesus did? What a disservice to us personally and to the body of Christ experientially.
Personally, I am great at always being the one who ministers to others. Yes, let me help you. Can I write a check? I've got some time to volunteer! Oh, I was happy to help them, thank you. But, don't you think for one moment that I need ministry because I am a self-sufficient sufferer. Rubbish!
Whether due to false humility or pride, never allowing people to minister love, comfort, mercy and grace to us is depriving the church from functioning as Jesus designed. My prayer for you and myself is to allow others to wash our feet after we've been through a long journey. I want to "have part with Him" no matter how uncomfortable it may be.
Ladies, we must find the courage to fully surrender to all of the experiences of being in the body of Christ instead of always being the ones facilitating those experiences for others.
→ Are you preparing to lead a Bible study? This week just for members of womensministry.net, Courtney Moore is teaching us about how the first night of Bible study can set the tone for authentic and transforming conversation. Not a member? Click here to join.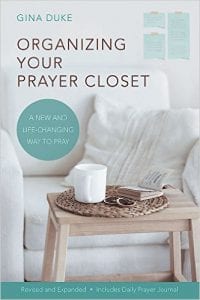 GIVEAWAY: Leave a comment sharing how this post has inspired or encouraged you and be entered to win a copy of Gina's book, Organizing My Prayer Closet.  Winner will be randomly selected from comments left by August 17, 2016.