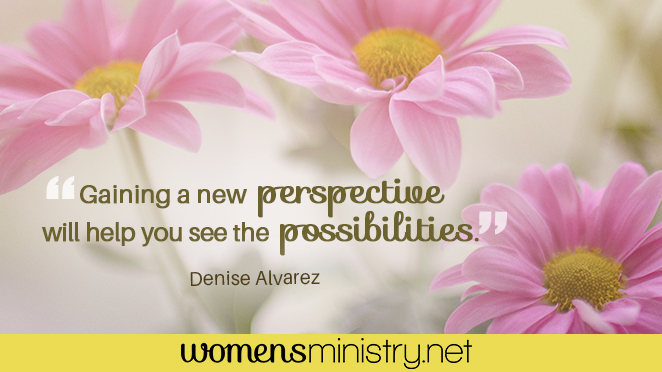 Event planning can be fun for some and cumbersome for others. Either way, it takes a whole lot of work. There's a reason people hire event planners who do this sort of thing for a living, right?
Have you ever thought about looking at planning an event as an opportunity? Sometimes that shift in perspective gives us a new outlook and passion for what may seem like just another task.
For example, your next ministry event is an opportunity to strengthen the faith of the worn out women in your church and community. It's an opportunity to speak life and hope into the single mom, newly divorced woman or the woman facing cancer, and to pour grace over youth and young adults who are afraid of the future or seasoned women who grieve the past.
And, did you know that your next event could be an opportunity to extend the tangible impact of the event outside the walls of the building? The ideas for extending impact are limitless, so we've put together three ideas for hosting impactful events to get you started:
Diaper Drive
Does your community have a pregnancy resource center or something similar that serves moms in need? Hosting a diaper drive at your event is a great way to bless the women and families they serve. Invite your event attendees to bring diapers and wipes with them when they come to the event. Be sure to have a place designated for collecting the items at the event. And, you could even invite someone from the organization you are blessing to be present to share about their services and the impact they are making in the community. (To find a pregnancy resource center in your area, check the Heartbeat International and CareNet directories.)
Marketplace That Matters
Most women love to shop, right? This idea combines shopping with making a difference as you create a fun marketplace environment at your event by inviting vendors who sell products that impact the lives of. For example, our new partnership with Fashion & Compassion provides an opportunity for you to host a "trunk show" at your event. As event attendees buy jewelry and gifts, they are helping to employ women in underserved countries and empower them to take care of their own families.
Canned Food Entry
This idea is similar to the diaper drive, but instead of diapers, you will invite attendees to bring canned food or pantry items with them to the event. Again, consider partnering with a local food bank. Many communities have a backpack program where they send a backpack of food items home with kids who need it, so you could invite women to bring a backpack with food in it to give to your local school. If you aren't sure what food banks are in your area, Feeding America has a directory.
Again, these three ideas are just the tip of the iceberg when it comes to opportunities to expand the impact of events. To have the biggest impact, be sure to let attendees know about these opportunities to give and bless others ahead of time. Include the details in the event promotions, confirmation emails or letters, and any other event communications.
So, as you are planning the details for your upcoming event, remember to think of each task as an opportunity. I can't wait to see how the Lord will use your new perspective to impact His kingdom.
→  Pre-orders close in one week for the new Steadfast Bracelet designed exclusively for womensministry.net by Fashion & Compassion and their artisan partners. Order your bracelet and learn more about how you'll be supporting women and families in vulnerable communities at womensministry.net/fashionandcompassion.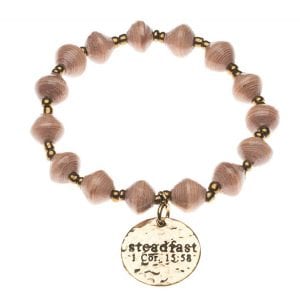 GIVEAWAY: Win a womensminsitry.net Steadfast Bracelet by leaving a comment sharing how you will use these ideas, or share other ideas you have for hosting impactful events. Winner will be randomly selected from comments left by October 5.