Do you ever feel like you can't make a difference from where you are? That a plane ride of at least 12+ hours to some poverty stricken country is necessary to truly make an impact in the world?
If you live in a booming metropolis or in a one red-light kind of town, God has you exactly where He wants you, and He has you there for a specific purpose. While trips to other parts of the country and world are a great thing, in Acts 1:8 we are told by Jesus, "…you will be my witnesses in Jerusalem and in all Judea and Samaria, and to the ends of the earth."
That means He has purposed for us to be a witness in each of these areas of life:
In Jerusalem
This references your own city or even family. It is very important to serve your Jerusalem well to be an effective leader in other areas. I often find it much harder to be an agent of grace to my daughter who doesn't change the kitty litter as frequently as I'd like or to my neighbor who insists on pulling around the garbage after I've drifted off to sleep.
I must daily remember that God has blessed me with my family and neighbors for a purpose and that is to show them His love. Start by praying for your family, the local church and for government officials, even if they're from the opposite political party.
In Judea and Samaria
Find out what is plaguing your state (or country as a whole) and where you can truly make a difference. Don't just give of your financial resources but also use your time and talent to benefit causes that you believe in. Allow your ministry to become an advocate to other organizations. I find that when we seek to serve others, that's when we are most blessed.
To the Ends of the Earth
Taking that 12+ hour plane ride is a great way to minister the gospel to the ends of the earth so don't discount that. At the same time, remember there are also other ways you can do this from where God has you right now. For example, many mission organizations have partnership programs where you can be a part of the work they are doing across the globe by volunteering, giving and even gathering supplies. At Fashion & Compassion, we have a program where you can host a jewelry trunk show at your event that directly benefits the artisans we serve that are half a world away. That's just one example of many options available at your fingertips.
The key is to remember that God has you where you are for a reason. Allow the Holy Spirit to speak to you to know where He is calling you to make a difference, knowing the end goal is that "…all the peoples (will) praise Him," our soon coming King! (Psalm 67:5)
→  This week, you can make a difference by ordering the new Steadfast Bracelet which was created exclusively for womensministry.net by Fashion & Compassion and their artisan partners. Pre-order your bracelet and learn more about how you can support programs that empower artisans in vulnerable communities to care for their families at womensministry.net/fashionandcompassion. Hurry! Pre-orders close October 5.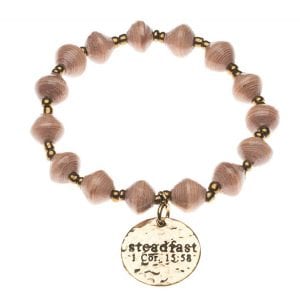 GIVEAWAY: Win a womensminsitry.net Steadfast Bracelet by leaving a comment sharing how this post has inspired or encouraged you. Winner will be randomly selected from comments left by September 28.